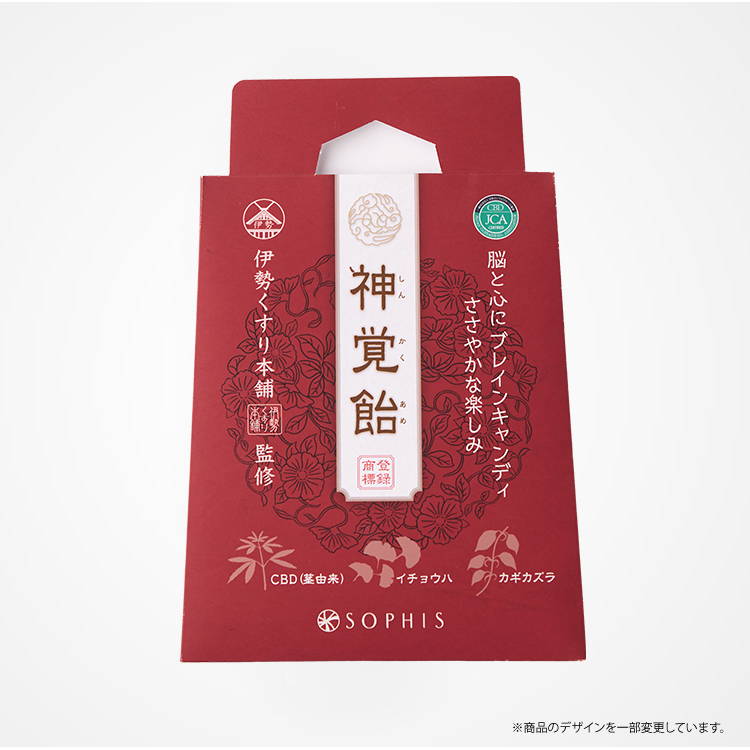 Shinkaku Candy
神格飴
¥1,500(税抜 / excluding tax)
「神覚飴」は450年の歴史を持つ伊勢くすり本舗にて監修していただきココロとカラダをリフレッシュできる飴にと考えました。
お召し上がり方:いつでもどこでも気軽に召し上がってください。
キャンディがのどにつまらないようにゆっくりとお召し上がりください。
CBD。イチョウ葉、カギカズラ葉、抹茶を配合しております。
The "Shinkaku Candy" was designed to refresh the body and mind under the supervision of Ise Kusuri Honpo, which has a 450-year history.
How to take it: Please take it anywhere and anytime.
Please take it slowly so that the candy does not get stuck in your throat.
CBD, Ginkgo biloba, Kagikazura leaf, and Matcha green tea are contained in this product.
SPECIFICATION
Name
キャンディ
Candy
Features
元亀元年創業、450年の歴史を持つ伊勢くすり本舗監修
Folium Biosciences社による日本仕様のCBDを配合
日本カンナビジオール協会認証製品
すべてのロットにおいて分析検査を行い、検査結果を公開
Established in the first year of the Genki era
Supervised by Ise Kusuri Honpo with 450 years of history
Contains CBD by Folium Biosciences to Japanese specifications
Certified by the Japan Cannabidiol Association
All lots are analyzed and tested, and the test results are made publicly available
Capacity
40g
40g
Preservation method
直射日光・高温多湿を避け、常温で保存してください。
Store at room temperature, away from direct sunlight, high temperature and high humidity.
Ingredients
砂糖(国内製造) / 水飴 / 抹茶 / イチョウ葉エキス / カギカズラ葉 / 麻抽出エキスパウダー(CBD) / チャ抽出物
Sugar (manufactured in Japan) / Starch syrup / Matcha green tea / Ginkgo biloba extract / Cercidiphyllum japonicum leaf / Hemp extract powder (CBD) / Cha extract